The new website went live today! I did new colours, branding and logo and it has turned out epic. Or at least I think it has. I especially love the header and the coloured logo!
New Logos and backgrounds
I built this Logo inside Canava – with the pro licence – and it amazed me at how easy it was. Initially, I wasn't sure if I wanted to have a black or white background on the website, so when I built the Logo I did them to fit with both. Then, because I loved the purples, I put on the rest of the site, I added some colours. It's looking fab.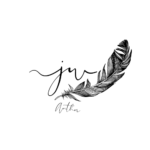 New Banner
Again, I built the banner in Canava. I spent a lot of time playing with the log and different backgrounds, and then I clicked on this one by accident and LOVED it. Not only is it feathers, but it's purple!
Newsletter and other areas
Once I set up the site, I had to go through the newsletter and the sign up forms, then go to the sign up forms, and, and, and…
It's quite amazing how many places that the branding exists. Hopefully I got them all.
If you're on my newsletter, but want t see the changes you can sign up here.
Do you like it to?
Let me know in the comments what you think?