Below I'm going to breakdown of what I watched, read and played in 2022. I've never tracked anything except what I've read in the past, but when I picked Balance as my word of the year, I wanted to get a visual of how much time I spent having fun, and doing things unrelated to writing. The results are fascinating, and it's going to be interesting to see how it compares to 2023.
Books Read
First up in my 2022 year my numbers. What did I read?
I fell in LOVE with the Ben Aaronvitch Rivers of London series pretty early in the year. This was one of my favorite series ever, and I'm impatiently waiting for the next one.
As you can see from the rest of the books, I was pretty much on catching up on series I was already reading, or reading books that had come out that year, or that I'd missed. Highly recommend all of them, but Keri Arthur's series is amazing if you like some werewolves and magic, and all the fun that goes with that.
This year I'm planning on getting lost in another long (and completed I think) new series, and I cannot wait!
See my Goodreads list here – Good Reads 2022 Challenge
Movies Watched
Next on the list, what Movies did I watch?
At the start of 2022 I rewatched every single Marvel movie (except the hulk, which was not on Disney and not free, and I didn't remember much liking them the first time round).
There is some mix of genre in there, but because of the rewatch, superhero movies are definitely winning by miles! Enola Holms is one of my fav's from the year (both of them), along with the newest Spiderman movies, which I just love.
Series Watched
Series watched in 2022 follows a very similar theme to the movies, Superheroes. Hawkeye and Loki were absolutely amazing, and some of my favorites of the year. Those and Wednesday, which was a very interesting mix of style and story.
Another favorites was Bridgton. in 2021 I watched Bridgton season 1 thinking it would be background noise, and it took me by surprise and I binge watched it in a day. Season two was just as good when I watched it this year.
There is a lot I just didn't get to this year. Titans new series, the Witcher prequel, lord of the rings, and so much more. This year is going to be a busy one.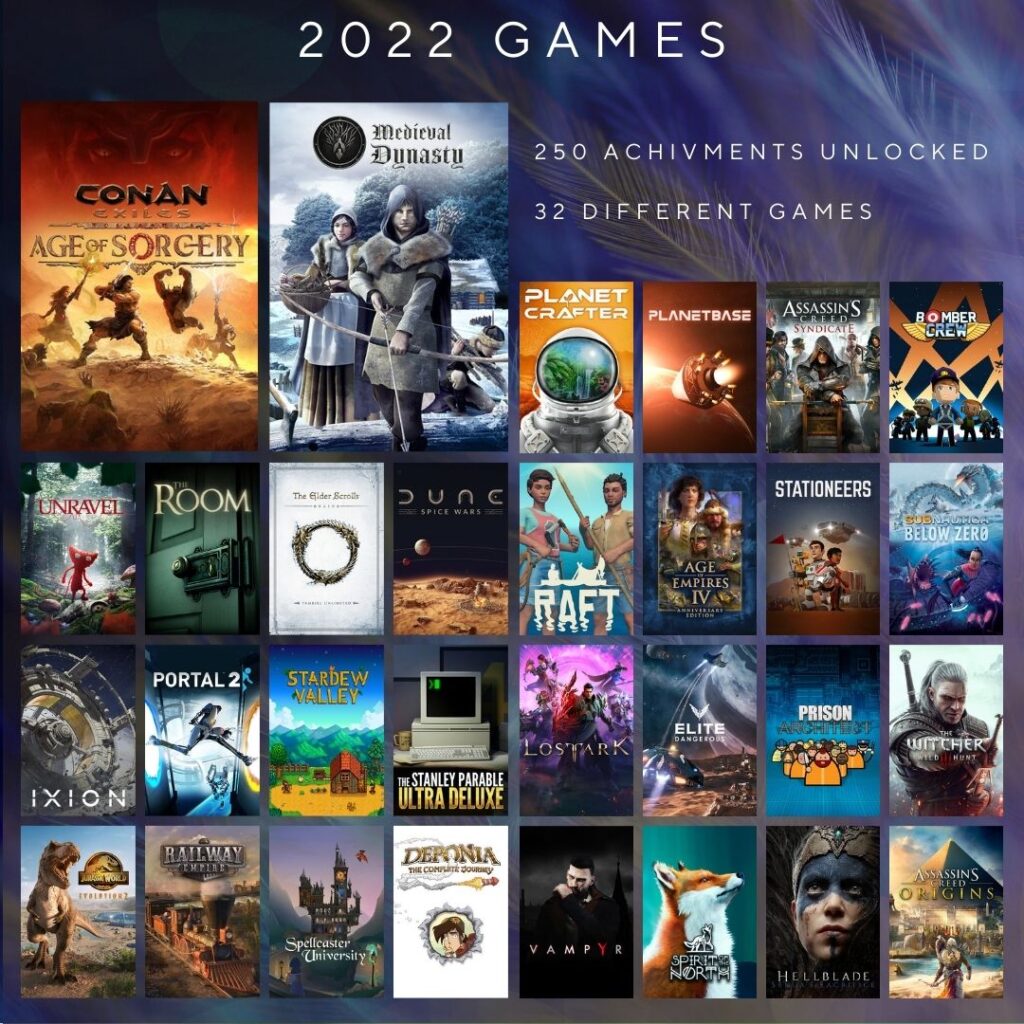 Played Games
And, finally, my games of 2022.
Some of these I will admit I only played for a few minutes, but steam doesn't show play time in numbers for the year. But the top two were the most played this year by far – Conan and Medieval Dynasty. Both of which I LOVE. I forgot to include Word of Warcraft in this list since it's not through steam, but I went back to it in November and I'm loving that world too.
I also finished a few games which is a great feeling – Assassin's creed Syndicate, Ixion and Spellcaster University.
Next year I am hoping to finish some more games like Hellblade and Vampyr becuse I love getting lost in the story, and both have been great fun to play.
I didn't set a goal for how much I wanted to watch in 2022, but seeing these numbers, I am very tempted to set a goal this year.
Does anyone else track what they do in a year? What was your favorite thing that you read, watched or played this year?