I'm an indie author working on both Urban Fantasy and Paranormal Romance series. Want to keep up to date with my new releases and projects? Join my newsletter.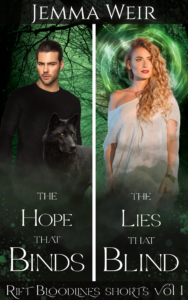 Released 1st September – Free with Newsletter
The Lies that Blind
All Sam wants to do is help her dad, but everything has a price, and this help might be more than she can bear.
The Lies that Blind is a prequel short that gives a sneak peek into Sam's past.
The Hope that Binds
All Hale wants to do is make his mum happy and remain human, but fate has other ideas, leaving his mum with a choice. Accept Hale as he is, or abandon him.
The Hope that Blinds is a prequel short that gives a sneak peek into Hale's past.
Be warned, these short stories don't have a happy ending, but rest assured, their chance of 'happily ever after' is coming in book 1 of the Rift Bloodlines series, Buried by Earth.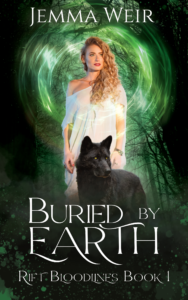 Released 5th January
When the full moon hunt ends with Hale poisoned and stuck as a wolf, Sam must choose between keeping her secret and losing Hale, or risking everything to save him.
Buried by Earth, the first book in the Rift Bloodlines Paranormal Romance Series. It follows Sam and Hale as they face hidden dangers, buried secrets, and a past full of betrayals.
Can Sam and Hale trust each other enough to survive, or will their past bury them? Find out in this captivating paranormal romance novel, Buried by Earth.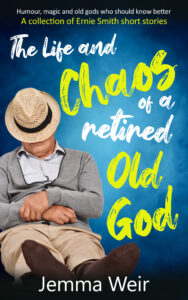 The Life and Chaos of a Retired Old God
Released 1st April 2023
Being retired was supposed to be easy. No drama, no family, no problems. Considering Ernie is a god, he should've known better.
In this collection of short stories, Ernie struggles to live a quiet life as Death loses his scythe, a genie wants a holiday and Ernie's family keeps dropping in.
Then there's Ragnarok. Because who doesn't need an end of the world event to keep things calm and quiet?
But it doesn't stop there. This collection contains a brand new bonus short story where Ernie is asked to mediate a feud between Dragons. With tensions running high, maybe the poker game hadn't been the best idea.
Also included in this collection are a series of flash fictions originally published on my blog. Follow Ernie as he deals with cupid shooting the wrong person, Wererabits for April fools, Santa stuck in the chimney and what happens to snowmen when the weather changes.
The Life and Chaos of a Retired Old God is a collection of humorous short stories where Ernie learns that quiet is the last thing he's going to get.